Twinkle Khanna is an Indian author, newspaper columnist, producer, interior designer and a former actress. She was India's highest selling female writer of 2015 with over one hundred thousand copies of her book Mrs Funnybones being sold. She released another book and it also got similar reviews. It was The Legend of Lakshmi Prasad which again sold 100,000 copies by August 2017. She has also won the Crossword Book award for her book Mrs Funnybones. She is the co-owner of The White Window which is a chain of interior designing stores which operates in Mumbai. She is also the co-founder of Grazing Goat Pictures. Recently, she produced Padman and also gave a speech at the Oxford University.
Twinkle Khanna Awards And Recognitions:
Twinkle Khanna won the Filmfare award in 1996 for the film Barsaat for being the best female debut of the year. She also got Hello! Hall of Fame Award for the most stylish couple along with Akshay Kumar in 2010. She was also the Inspiring Woman of the year and got the Outlook Social Media award in 2016. She also got the Crossword popular non-fiction award for Mrs Funnybones in 2016. For her book, The Legend of Lakshmi Prasad, she was given the India Today woman writer of the year award in 2017. Twinkle also bagged the Vogue Opinion maker of the year in 2017. She also got the Bangalore Literature festival- popular choice award in 2017.
Twinkle Khanna Marriage: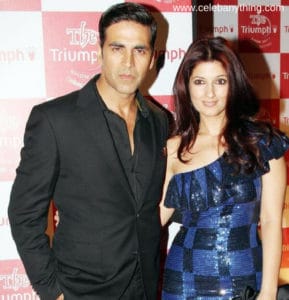 Twinkle Khanna married Akshay Kumar on January 7, 2001.  Before marriage, they met at a Filmfare photoshoot with Jayesh Seth. They fell in love with each other during the shoot of their film, Khiladi International. The marriage took place at the residence of Abu Jain and Sandeep Khosla and they had only a few people in the ceremony. Aamir Khan, Amar Singh and Dharmesh Darshan were a few of all who attended the wedding.
Twinkle Khanna Age: 43 years. Born on 29 December 1974
Twinkle Khanna Education Qualifications:
School: New Era High school, Panchgani, Maharashtra
Twinkle Khanna Family: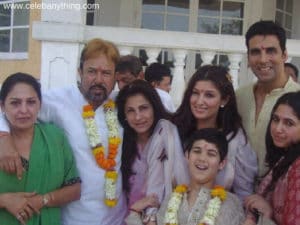 Father- Rajesh Khanna (Bollywood Actor & Producer)
Mother- Dimple Kapadia (Bollywood Actress)
Sister- Rinke Khanna (Actress)
Spouse- Akshay Kumar
Twinkle Khanna Kids:

Son- Aarav Kumar
Daughter- Nitara Kumar
Twinkle Khanna Controversies:
Twinkle Khanna tweeted on the controversy concerning her husband Akshay Kumar and comedian Mallika Dua controversy saying that it was all said in good humour. The controversy started from the Great Indian Laughter Challenge where Akshay Kumar made an inappropriate statement on Mallika Dua. This enraged Mallika's father and he tweeted expressing his extreme disappointment on the controversy. Twinkle had to finally apologize for her tweet after people starting dragging her daughter in it.
While walking on the ramp for Tarun Tahiliani, Akshay came to his wife who was seated in the first row and asked her to unzip him. Twinkle was caught by surprise but she finally did it. Later, she got in legal trouble for this particular gesture.
Rishi Kapoor's birthday wishes for Twinkle Khanna became a reason for a lot of controversies all over again.
 Twinkle Khanna Net Worth: $30 million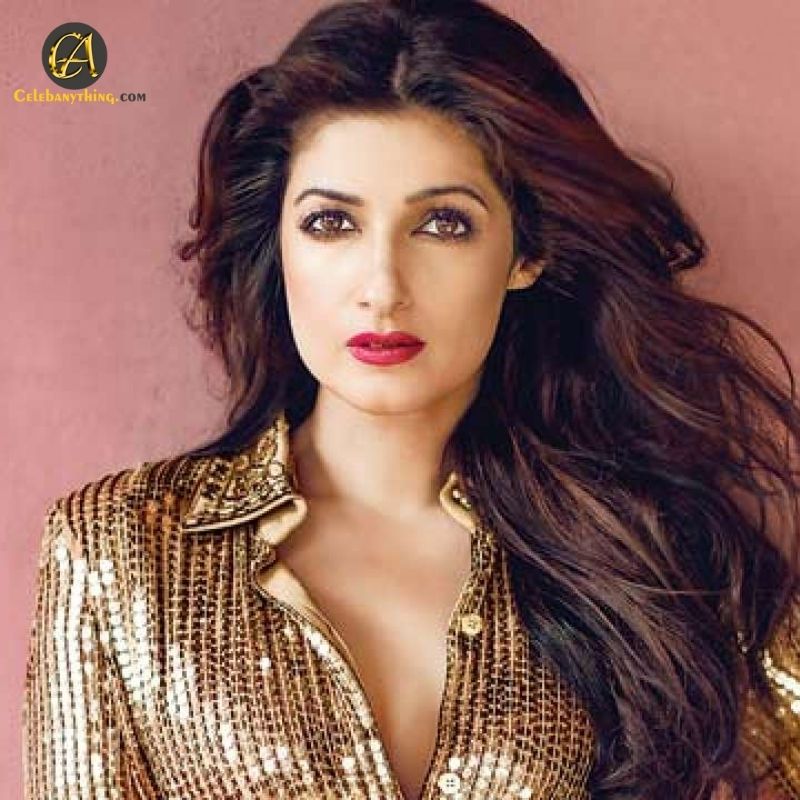 Social Media Handles:
Facebook: https://m.facebook.com/TwinkleRKhanna/
Twitter: https://twitter.com/mrsfunnybones/
Instagram: https://www.instagram.com/twinklerkhanna/