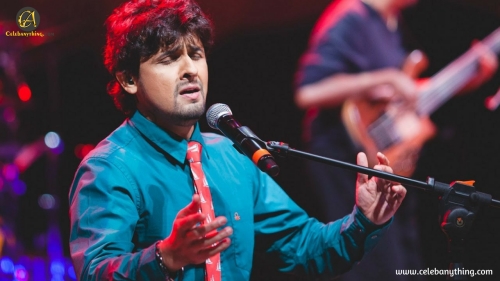 Sonu Nigam is an Indian singer, musician, composer, music producer, recordist, music programmer, live performer, and actor. He has given us beautiful compositions in various languages and he is among the highest paid Indian singers. Sonu has been seen in many popular television singing reality shows as a judge and also as a host. He has sung almost 11,110 Hindi songs till date.
Sonu Nigam Awards:
Sonu Nigam got five Filmfare awards for songs in Hindi & Kannada languages. He got nominated for the Oscars in 2015 and became Socialathon person of the year. He bagged the Global Indian Music Award four times. He bagged the National Film Award for the best playback singer in 2013. Sonu got the IIFA awards three times.
Sonu Nigam age: 44 years Born on 30 July 1973
Sonu Nigam Education Qualifications:
School: J. D. Tytler School, Delhi
Graduation: Delhi University
Sonu Nigam Marriage:
Sonu Nigam fell in love with his wife Madhurima who is a Bengali woman. They initially did a court marriage and carried it for a couple of years. Finally, on 15 February 2002, they got married.
Sonu Nigam family:
Father: Agam Kumar Nigam
Mother: Shobha Nigam
Son: Nevaan Nigam
Spouse: Madhurima Nigam
Sister: Neekita Nigam
Sister: Meenal Nigam
Sonu Nigam Controversies:
His tweets against the morning Azaan which according to him should not be done on the loudspeaker as it disturbed his morning sleep probably landed him in a lot of trouble.
Things didn't end here as he also posted a video of the morning Azaan which was loud and created noise pollution.
Syed Sha Atef Ali Al Qadri announced a prize of Rs. 10 Lakh to anyone who would shave his head and Sonu Nigam was the one to shave his head which became the biggest news of that time.
When Abhijeet Bhattacharya's twitter account was suspended due to the allegations made by him on a woman, Sonu Nigam got extremely angry and publicly announced that he will probably leave the site and delete his account because of zero freedom of speech.
When he compared Radhe Maa to a Hindu goddess, it was enough for people to slam him as he hurt the sentiments of a group of people.
When he sang on a flight mid-air using the planes address system in January 2017, it became a big issue. There were many statements and allegations including the suspension of crew members.
After some kind of disagreement with a particular music company and the contracts, he declared his retirement on Twitter.
Sonu Nigam net worth: 50 crore: 10- 15 Lac for a concert in India
Social media handles:
Facebook: https://m.facebook.com/SonuNigamSpace/
Instagram: https://www.instagram.com/sonunigamofficial/
Twitter: https://twitter.com/sonunigamforum