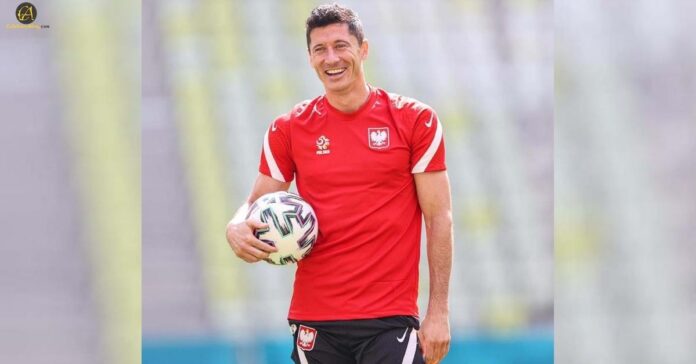 Robert Lewandowski is a Polish football player who currently plays as a striker for the German club FC BAYERN MUNICH. He is considered as one of the best strikers in the world if not the best and is racking career stats in goals at will.
Robert Lewandowski in Youth:
Born in warsaw he played for a local club Partyzant Leszno later moving to MKS Varsovia, Warsaw where he spent 7 years. From there he moved to Znicz Pruszkow and Leh Poznan where he scored 18 goals before moving to his first big club at BORRUSIA DORTMUND which is known for the development of young players.
Robert Lewandowski Family:
Robert was born to his father Krzysztof who was a polish judo champion and also played football in the polish second division and his mother Iwona who was a volleyball player for AZS WARSZAWA and later vice president of Partyzant Leszno. His sister Milena is also a volleyball player. He got married to Anna Lewandowski who was a bronze medalist in the 2009 karate world cup. With her, he has 2 daughters Kiara and laura.
Club Career of Robert Lewandowski:
He was successful at Borussia Dortmund under Jurgen Klopp as his coach he won the Bundesliga 2 times with Dortmund a german cup and reached the champions league final where they got beat by country rivals Bayern Munich(2-1). He joined Bayern Munich as a free agent where he established himself as one of the most lethal strikers in the world. He won the Bundesliga consecutively 7 times. won the german cup 3 times and a champions league in 2020. And won the sextuple with Bayern Munich in 2020 winning six trophies in a single year.
Robert Lewandowski International Career:
As per Celebanything content curators, he is one of the best players Poland has ever produced. He has over 66 international goals for Poland and though he doesn't have any trophies to show for it but to be fair to him his national teams haven't been one of the favorites any year. He represented his country in 3 European championships in 2012,2016,2020, and the FIFA world cup in 2018.
Robert Lewandowski Achievements:
The extraordinary striker has many individual recognitions to his name. He has more than 500 senior goals for club and country he has 270 goals in Bundesliga and was named Bundesliga player of the season for 5 years. he is the third-highest goalscorer in the UEFA champions league. In 2020 he won the FIFA best men's player award and UEFA men's player of the year as per Celebanything content curators.. he also holds a Guinness book of world record for fastest 5 goals when he scored 5 goals in 9 minutes against Wolfsburg.
Conclusion:
The striker extraordinaire just had a sensational year with Bayern Munich where he broke the long-standing goal-scoring record of Gerd muller by scoring 41 goals in a single season in Bundesliga and with several years left in his prime we can expect more goalscoring feats from this polish legend in the coming years.
Social Media Handles:
Instagram: https://www.instagram.com/_rl9/
Facebook: https://www.facebook.com/rl9official
Twitter:  https://twitter.com/lewy_official?