Padmavat (Previously Padmavati) the story of Padmavati, a Rajput queen who committed Jauhar (self-immolation) to protect herself from Khilji.
Directed by Sanjay Leela Bhansali was released on Date: 24 January 2018 & 25 January 2018 in 2D, 3D, and IMAX 3D formats (Initially scheduled for release on 1 December 2017) is an Indian epic period drama.
First Indian film to be released in IMAX 3D.
Story based on poem Padmavat (1540) by Malik Muhammad Jayasi.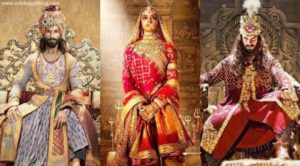 Starring:
Deepika Padukone – Rani Padmavati
Shahid Kapoor – Maharaja Rawal Ratan Singh
Ranveer Singh – Sultan Alauddin Khilji
Supporting Roles:
Aditi Rao Hydari – Mehrunisa
Jim Sarbh – Malik Kafur
Raza Murad – Jalaluddin Khilji
Anupriya Goenka – Nagmati
Sharhaan Singh – Vijaydaan Singh
Controversies During Padmavat:
The release was indefinitely delayed due to numerous controversies from 1 December 2017 to 25 January 2018.
Central Board of Film Certification approved the film with five modifications, which includes the addition of multiple disclaimers and a change in title in December 2017.
There were allegations from groups such as the Shri Rajput Karni Sena, a Rajput caste organization, claiming that the film depicts factual inaccuracies, portraying the Rajput queen Padmavati in a bad light, with activists vandalizing the sets of the film.
A sting operation conducted by an Indian news channel showed that the activists had planted the controversies in order to extort money from the filmmakers.
Akhilesh Khandelwal, an Indian politician, and ruling Bharatiya Janata Party (BJP) member made a Facebook post announcing a reward for anyone who attacks the director Sanjay Leela Bhansali with a shoe.
The opposition Indian National Congress (INC) condemned the post, demanding action be taken against Khandelwal for attempting to instigate an attack.
In March 2017, some activists of the Karni Sena broke 50-year-old mirrors installed in the Padmini Palace, which was said to have been the palace of Padmavati. The mirrors until they were shown to tourists as part of the narrative that the queen's face was revealed to Alauddin Khilji through them as part of the latter's compromise with her husband Ratan Singh.
The activists deplored this claiming that mirrors did not exist during the time. While the cast and crew were filming a scene in Masai plateau, Kolhapur at night, a mob of around 20–30 people armed with petrol bombs, stones and this charged and set the set ablaze, injuring animals and destroying several costumes.
The attacks were considered staged as they were based on the false pretext set up by Rajput groups that the film includes a dream sequence in which Padmavati and Alauddin Khilji are seen in intimate contact.
In October, a rangoli of the first poster released from the film, which reportedly took 48 hours to create, was destroyed by a group of around 100 people shouting religious slogans.
The action was taken by the police after Padukone expressed her anger on social media. Members of the Sena later stated that they would prevent release even if objectionable parts were cut.
In November 2017, Raj K. Purohit, an Indian politician, and senior BJP member called for the film to be banned. He stated: "How can a Rajput queen be shown dancing and without ghoonghat? It is against Rajput culture and pride. No community will be able to tolerate it." He said he would meet Ministry of Information and Broadcasting Smriti Irani to seek action against the film.
Central Board of Film Certification member Arjun Gupta petitioned the Home Minister to put Bhansali on trial for treason. The Karni Sena held protests, supported by politicians in the ruling Bharatiya Janta Party (BJP).
On 24 November 2017, a dead body was found hanging in Nahargarh Fort, with a sentence scribbled on a nearby rock wall stating in Hindi, "Padmavati ka virodh" (in opposition to Padmavati).
On 30 November 2017, Bhansali appeared before the Indian Parliament and clarified his stance, stating, "All the controversy over the film is based on rumors. I have not distorted facts. The film is based on a poem by Malik Muhammad Jayasi.
Threats to Stars during Padmavat:
Karni Sena made threats of violence, reportedly threatening to burn down theatres if the film is released to audiences before it is shown to them for evaluation.
The Karni Sena threatened to violently assault and mutilate Padukone, which the Mumbai Police responded to by giving her special security.
Bharat Kshatriya Samaj, another caste organization, made death threats against Bhansali and Padukone, putting a ₹5 crore (US$790,000) bounty on their heads.
The Haryana BJP's media chief Suraj Pal Amu put a ₹10 crore (US$1.6 million) bounty on the heads of both Padukone and Bhansali. Amu also made threats against.
Ranveer Singh, who plays the Muslim ruler Alauddin Khilji, threatening to break Singh's legs.
Sanjay Leela Bhansali received death threats. Bhansali was assaulted by the Karni Sena on a film set, an attack condemned by a number of celebrities and public figures.
Deepika – memories of depression during Padmavat:
Deepika Padukone has been feeling extremely disturbed, after shooting for the role of Rani Padmavati, in the film Padmavati by Sanjay Leela Bhansali. Deepika had been working hard for the role and, in the process, become disturbed.
Ranveer Singh Consulting Psychiatrist during Padmavat:
It was revealed that Ranveer comes to Padmavati sets in a feisty mood and intense persona to get the essence of his character right Ranveer Singh Is Reportedly Consulting a Psychiatrist after Padmavati Takes a Toll.
Supreme Court Case during Padmavat:
SC allows the film to be released in Madhya Pradesh, Gujarat, Haryana, and Rajasthan. The states banning the film were destroying the federal structure, senior advocate Harish Salve said.
The Supreme Court on Thursday set aside the notification passed by the states of Madhya Pradesh, Haryana, Rajasthan and Gujarat against the release of Sanjay Leela Bhansali's directorial Producers of the film, Viacom18, on Wednesday had moved the Supreme Court challenging the ban on its screening by four states across the country.
Senior advocate Harish Salve, representing the film's producers, told the Supreme Court that the states banning the film were "destroying the federal structure", ANI reported. "If somebody has a problem, then he or she can approach appellate tribunal for relief," Salve told the court. "The state cannot touch the content of a film. We request the central government to pass a direction to the states for a better and an effective step and solution."
Joint Press Conference for Padman and Padmavat:
Akshay Kumar and Sanjay Leela Bhansali as Akshay supports Padmaavat and shifts Padman's release date to 9th February.
Social Media:
Facebook: https://www.facebook.com/FilmPadmaavat
IMDb: http://www.imdb.com/title/tt5935704/
Bollywood Hungama: http://www.bollywoodhungama.com/movie/padmaavat/