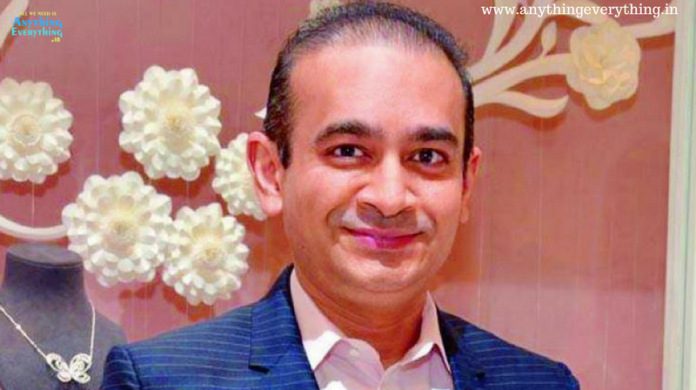 Nirav Deepak Modi is a Jewellery Designer businessman born in 1971 in Antwerp, Belgium.  He belongs to Palanpur, Banaskantha, and Gujarat, India. His Nationality is Indian. He did his education at The Wharton School, University of Pennsylvania, USA. By Religion Nirav Modi follows Jainism.
Nirav Modi Family:
Nirav Modi Father: Also a traditional diamond jeweler Deepak Keshavlal Modi and mother was in interior décor.
Nirav Modi Maternal Uncle: Mehul Choksi – CEO and Managing Director of Gitanjali Gems.
Grandfather: Keshavlal Modi
He married to Ami, a US citizen, and the two have a son and two daughters. All three live in New York.
Nirav Modi Son: Rohin
Nirav Daughters: Apasha and Ananya
Nirav Modi Wife: Ami Modi
Modi's brother Nishal got married to Mukesh and Anil Ambani's niece Isheta in December 2016.
Nirav Modi Brother: Nishal Modi
Modi and his family have significant control in three trusts — the Nirav Modi Family Trust, Nirav Modi Trust and Rohin Trust.
Nirav Modi Net Worth: 
Yearly Turnover:  Rupees 20,000 Crore. Net Worth: $1.76 Billion
Nirav Modi corporate office:
In 2005 & 2007, he purchased two jewelry distribution and marketing firms, Sandberg and Sikorsky and from his US friend Fredrick Goldman that helped in setting up his base in the United States of America.
In 2010, he had designed a masterpiece necklace, The Nirav Modi's Golconda necklace which brought him to seven skies of the success and was sold for 16.29 crore rupees in Christy's auction.
In 2017, Modi designed his most expensive jewelry piece yet, the 'Mogok Suit' — a necklace, earrings and bracelet set, made of rubies, costing Rs 100 crore. Modi's PR machine is believed to ensure that no other brand's jewelry is featured on the same page as a Nirav Modi creation in any publication.
He has jewelry boutiques across three continents – in London, New York, Las Vegas, Hawai, Singapore, Beijing, and Macau. In India, Nirav Modi has his stores in Mumbai and Delhi.
He had his stores in around 16 countries such as Hong-Kong, Japan, Britain, USA, India, and many more.
Nirav Modi Company:
Modi set up a diamond sourcing and trading company called Firestar Diamond. The company is worth $2.3 billion today.
 Nirav Modi Cars:
A fleet of luxury cars including a Rolls Royce Ghost, two Mercedes Benz GL class, one Porsche Panamera, three high-end Honda cars and one Toyota Fortuner belonging to Nirav Modi and his group of companies.
Nirav Modi House:
He owns Rs 32 crore house in Mumbai.
Nirav Modi star clients:
He has a long list of star clients – Kate Winslet, Steven Spielberg, Sharon Stone and Aishwarya Rai, Priyanka Chopra.
Nirav Modi Fame:
He was named among Forbes' list of India's Richest in 2016, with a net worth of $ 1.74 billion. The prices of his jewelry pieces range from Rs. 5 lakh to Rs. 50 crore. Brand NIRAV MODI also has several globally patented diamond cuts to its credit
Priyanka Chopra Quits as Nirav Modi Brand Ambassador:
Actor Priyanka Chopra has quit as a brand ambassador of jeweler Nirav Modi's product line, the actor's spokesperson said. Mr. Modi is under investigation over alleged fraud running into Rs. 11,300 crore
Nirav Modi Fraud:
He is under investigation over alleged fraud running into Rs. 11,300 crore. Punjab National Bank (PNB) is trying to recover dues from the jeweler.
PNB has told Mr. Modi to come up with a concrete plan to return the Rs. 11,300 crore his companies have borrowed without following proper procedures. The loans, granted illegally by its own officials, have landed India's second-largest bank in a huge controversy.
PNB Scam Jeweller Nirav Modi:
January 29, 2018: Deputy General Manager of PNB's Mumbai branch, Avineesh Nepalia, complains to the CBI, saying that some of its officials were causing loss to the bank and eight fraud Letters of Undertaking (LoUs) amounting to Rs. 280 crore were issued for Hong Kong-based banks.
January 31, 2018: Income Tax officials raid celebrity jeweler Nirav Modi's offices in Delhi, Surat, and Jaipur which were allegedly under I-T department's scanner.
February 5, 2018: The CBI charges billionaire jeweler Nirav Modi in a multi-crore cheating case. It registers a First Information Report (FIR) for criminal conspiracy and cheating against Nirav Modi, his brother Nishal, wife Ami and Mehul Chinubhai Chowski of Diamond R and Stellar Diamonds, for causing a loss of Rs. 280 crore.
February 14, 2018: PNB complains to the CBI about celebrity jeweler Nirav Modi alleging multi-crore fraud. The complaint says that about Rs. 11,000 crore of taxpayers' money had been illegally transferred abroad from its branch in Mumbai. Punjab National Bank said that its own officials violated rules and put out illegal guarantee documents to help the celebrity jeweler secure credit from banks abroad.
February 15, 2018: CBI searches his home, showrooms, and offices in Mumbai, Delhi and Surat. The Enforcement Directorate (ED) seizes diamonds, jewelry and gold worth Rs. 5,100 crore. He himself, his wife, and uncle Mehul Choksi left the country in the first week of January, inform officials.
February 16, 2018: The bank again approaches the CBI giving details of more transactions. PNB detected 150 Letters of Undertaking (LoUs) which were fraudulently issued by its officials in connivance with Nirav Modi and the other accused in the case, officials said.
CBI raids Gitanjali Group owned by Nirav Modi's uncle Mehul Choksi in connection with the PNB fraud.
February 17, 2018: Government suspends passports of Nirav Modi and Mehul Choksi for four weeks in connection with the PNB fraud.
February 18, 2018: CBI questions Punjab National Bank (PNB) officials and conducts searches at its Brady House branch in Mumbai in connection with the Rs. 11, 400 crore PNB fraud.
CBI arrests former PNB Deputy Manager Gokulnath Shetty, single window operator Manoj Kharat and the group's authorized signatory Hemand Bhat for their role in issuing fake guarantees at a huge cost to the taxpayer.
February 19: CBI summons Nirav Modi's Chief Financial Officer and seals Mumbai's PNB branch.
February 20, 2018: A letter that Nirav Modi wrote to the Punjab National Bank management on February 15/16 came out. In the letter, he pegged the money his companies owe to the bank at under Rs. 5,000 crore. The crackdown has jeopardised his company's ability to discharge the dues of the group to the banks, he wrote.
His lawyer Vijay Aggarwal said that all transactions with PNB were documented and allegations made by the Central Bureau of Investigation (CBI) were completely wrong.
February 21, 2018: CBI arrests Vipul Ambani, CFO of Nirav Modi's firm and two other senior executives of Nirav Modi's firms. It also seals his farmhouse in Alibaug.
February 22, 2018: A special court in Mumbai remands Vipul Ambani, the president (finance) of Nirav Modi's Fire Star Diamond, and five others in CBI custody till March 5.
The Enforcement Directorate seizes a fleet of 9 luxury cars including a Rolls Royce Ghost, two Mercedes Benz GL class, one Porsche Panamera, three high-end Honda cars and one Toyota Fortuner belonging to Nirav Modi and his group of companies. ED said that it has frozen mutual funds and shares worth Rs. 94.52 crore of the Nirav Modi and Mehul Choksi groups.
PNB asks billionaire diamond jeweler Nirav Modi to come up with a concrete and implementable plan to settle the loss caused to it.