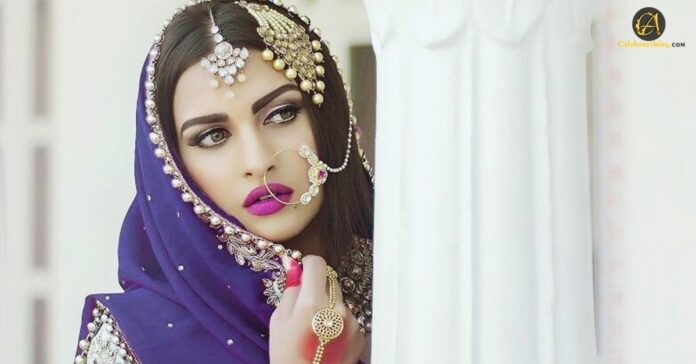 Himanshi Khurana is a Punjabi singer. Along with singing, she also does acting and works as a model too. She has been mostly seen in Punjabi movies. In the year 2019, she participated as a contestant in a reality show named Bigg Boss 13.
Himanshi Khurana Birthplace, Family, and More
Himanshi Khurana was born on 27th November 1991 in Punjab. At present, she is 30 years of age. Himanshi's hometown is in Ludhiana, Punjab. Her zodiac sign is Sagittarius. Himanshi completed her school education from BCM Sr. Secondary School.
Himanshi is unmarried but she was engaged to a man named Chow. Her father's name is Kuldeep Khurana who works as a  government employee and her mother's name is Sumeet Khurana. She also has two brothers named Hitesh Khurana and Apram Deep.
Himanshi Khurana Early Life, Entry and Success in the industry :
Himanshi's father wanted her to become a nurse but she was more interested in creative activities. While in 11th standard, one of her family friends suggested she try modeling as he thought that Himanshi's face was very photogenic.
After that, she started modeling. She was at the age of 16 when she won the 2009 Miss Ludhiana Contest. In 2010, she secured the title of yet another contest named "Miss North zone" and also, she was a finalist in Miss PTC Punjabi.
After that, she got her first offer as a model in the song Jodi by Big Day Party Kuldeep Manak and Panjabi MC. Himanshi Rose to fame with her appearance in the Punjabi film named "Sadda Haq". She received various offers after her appearance in the movie.
Himanshi has also featured in a few very popular music videos namely Soch by Hardy Sandhu, Taara by Ammy Virk, and Insomnia by Sippy Gill.
Himanshi Khurana Facts
Himanshi Khurana is fond of dogs. Her favorite musicians are Master Saleem, Garry Sandhu, and Gurdas Maan. she also is a huge fan of Babbu Maan and has even got a tattoo of his name below her neck. Along with Babbu Maan, she considers Beyonce and Ariana Grande as favorite singers. Himanshi is a nickname too. Her family and friends call her Daddu.
Himanshi Khurana in Bigg Boss 13
Himanshi was a contestant in Bigg boss 13. During the show, she informed everybody about her relationship with her boyfriend of nine years named Chow. She also confirmed her engagement with Chow. However, just after coming out of Bigg boss's house, her relationship ended with him. Since then she has been dating her co-contestant Asim Riaz.
Himanshi Khurana Latest News, Updates, and More.
Most recently Himanshi Khurana has been seen objecting the Bollywood actress Kangana Ranaut's tweets mentioning an old lady. After her objection, Kangana Ranaut blocked her on Twitter.
After the recent clash between singer Diljit Dosanjh and Kangana Ranaut, she also posted a tweet mentioning some other people whom Kangana had blocked after they criticized Kangana's tweets regarding the farmer's protest in India. Himanshi even accused Kangana of picking the latest topic each time to stay in the limelight.
Himanshi Khurana Social Accounts : 
Facebook:  https://www.facebook.com/HimanshiKhurana.in
Instagram: https://www.instagram.com/iamhimanshikhurana/
Twitter: https://twitter.com/realhimanshi?