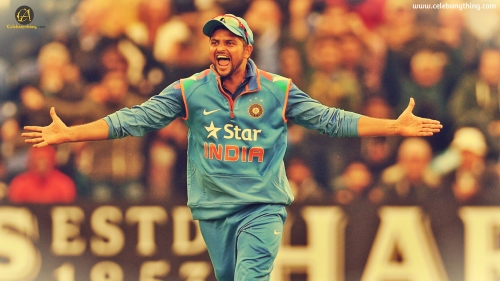 Suresh Kumar Raina is a professional cricketer who plays in the Indian team. He is considered to be one the best fielders in cricket. He was the captain of Gujarat Lions in the Indian Premier League. He is currently the vice-captain of Chennai Super Kings. Suresh Raina us the second youngest player to captain the Indian cricket team. He made his debut in the ODI at the age of 19 in a match against Sri Lanka in July 2005. He was a part of the Indian cricket team which won the 2011 world cup.
Suresh Raina Awards and recognitions:
Suresh Raina got the man of the match award for England in India series. He also won the man of the match award for India in England series in 2014. He has got the man of the match award multiple times against countries like England, Hong Kong, Pakistan, Bangladesh, Sri Lanka, England, Zimbabwe and Bangladesh. He won the man of the series award for T20 cricket which was against Zimbabwe. He also won the man of the match award for ICC World Cup Twenty Twenty.
Suresh Raina Marriage:
Suresh Raina married Priyanka Chaudhary on April 3, 2015. Suresh Raina and Priyanka Chaudhary are friends since childhood and they married in a private ceremony in Delhi. Priyanka is an engineer who did her B. Tech from an engineering college in Ghaziabad, Uttar Pradesh. They both finally got married at Leela Palace, Delhi. Suresh Raina wore a golden sherwani while the bride looked beautiful in a red lehenga choli.
Suresh Raina age: 31 years.Born on 27 November 1986
Suresh Raina Education Qualifications:
College: Government Sports College, Lucknow
Suresh Raina family:
Father: Tirlokchand Raina (Retired army officer)
Mother: Parvesh Raina
Brothers: Naresh Raina, Mukesh Raina, Dinesh Raina (All elder)
Sister: Renu Raina (Elder)
Wife: Priyanka Chaudhary
Daughter: Gracia Raina
Suresh Raina Controversies:
In 2017, his name was missing on the list of contracted players which provoked the fans and the social media was full of questions regarding the same. The reason as stated was that he was concentrating more on his family and business rather than concentrating on the game.
Suresh Raina once made a statement that our very own 'Captain cool' is not so cool. He behaves calmly in front of the cameras but when they would go off, his anger can be seen.
There were some reports linking him to a woman but there was no exact evidence to prove it.
Suresh Raina Net Worth: Rs.150 Crore
Social media handles:
Facebook: https://m.facebook.com/SureshKumaRainaOfficial/
Instagram: https://www.instagram.com/sureshraina3/
Twitter: https://twitter.com/ImRaina/