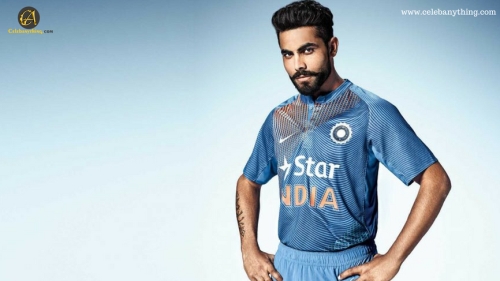 Ravindrasinh Anirudhsinh Jadeja also known as Ravindra Jadeja is an International cricketer who plays in the Indian team. He plays both as a left-handed middle-order batsman and slow left-arm orthodox bowler which makes him an all-rounder. In the first class cricket, he represents Saurashtra and plays for the Gujarat Lions in the Indian Premier League. Ravindra Jadeja made his ODI debut on 8 February 2009 which was against Sri Lanka. In 2012 IPL, he played for the Chennai Super Kings. He became the first Indian left-arm spinner to take 150 ODI wickets on 22 January 2017 at Eden Garden, Kolkata. He left Ravichandran Ashwin behind and became the top-ranked bowler in the world in March 2017.
Ravindra Jadeja Awards and Recognitions:
Ravindra Jadeja won the ICC World ODI XI from 2013 to 2016. He also won the Madhavrao Scindia award for most wickets in Ranji trophy from 2008-2009. He won the Test Man of the Match, Test Player of the Series, ODI Man of the match and T20 Man of the match awards multiple times.
Ravindra Jadeja Marriage:
Ravindra Jadeja fell in love with Riva Solanki the first time he met her. Riva was basically a mechanical engineer from Rajkot. They got engaged on 6th February 2016 in Rajkot which was a private ceremony. They finish got married on 17th April 2016 in Rajkot itself. Ravindra was decked up in a traditional Rajput wedding attire and Riva wore a red and green traditional Rajput bridal saree.
Ravindra Jadeja age: 32 years. Born on 6 December 1988
Ravindra Jadeja Education Qualifications:
His education qualifications are not known exactly but he pursued his education from Rajkot.
Ravindra Jadeja Family:
Father: Anirudhsinh Jadeja (watchman)
Mother:  Late Lata Jadeja (Nurse)
Sisters:  Naina (eldest)
Ravindra Jadeja Controversies:
On his wedding day, gunshots were fired in the air during his wedding reception which is otherwise illegal and so it created a scene. The police also arrived at the location to investigate the matter.
Ravindra Jadeja and Anderson got into an ugly fight during an India vs England match at Trent Bridge. Anderson abused and even pushed Jadeja and the issue was taken to the ICC which appointed a judicial commissioner to solve the issue.
He played for Rajasthan for two consecutive seasons in the IPL but tried to get a better deal from other franchises. Unfortunately, he was banned for a season due to breaching if player's guidelines. However, he fetched the highest bid the 2012 IPL.
During an ODI match against West Indies, Jadeja and Suresh Raina got into a war of words as Raina had lost a number of catches for that particular match. The issue was sorted and now they are great buddies. They also represent Gujarat in the IPL.
Ravindra Jadeja net worth: Rs.58 Crore
Social media handles:
Facebook: https://m.facebook.com/ImRavindraJadeja/
Twitter: https://twitter.com/SirJadeja/
Instagram: https://www.instagram.com/royalnavghan/