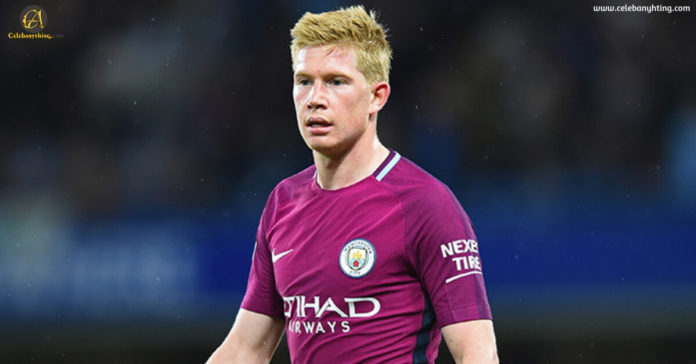 Kevin De Bruyne is an international footballer who plays for Belgium. He plays in the Belgium national team and English club Manchester City as a midfielder. He is described as 'complete' footballer because of his playing style and all the coaches, media and colleagues rank him amongst the best footballers. The Guardian ranked him as the fourth best footballers in 2017. Kevin started his career at Genk as a regular player until he signed with Wolfsburg in 2014 and he was named as Footballer of the year in Germany in 2015. He later joined Manchester and made his full international debut in 2010. He played for the FIFA world cup in 2014 and was declared as the man of the match.
Kevin De Bruyne Awards and Recognitions:
Kevin won the UEFA Europa League squad of the season for 2014-15. He was declared as the footballer of the year in Germany in 2015. He also won the France footballer world XI in 2015. He won the Belgian sportsman of the year in 2015. He also bagged the FIFA FIFPro World XI 3rd team in 2016. He was the Football League Cup top goalscorer for 2015-16 and also Football League Cup top assist provider. Kevin was the Premier League top assist provider in 2016-17. His team won the IFFHS Men's World Team in 2017 and UEFA team of the year in the same year.
Kevin De Bruyne Wedding:
Kevin was in a relationship with Michèle Lacroix since 2014 who got pregnant on 28 September 2015 and she gave birth to Mason Milian De Bruyne on 10 March 2016. The finally decided to get married in 2017. Kevin De Bruyne married the beautiful Michèle De Bruyne in Sorrento, Italy.
Kevin De Bruyne age: 26 years. Born on 28 June 1991
Kevin De Bruyne Education Qualifications: He is only playing football from a very young age.
Kevin De Bruyne Family:
Mother: Anna De Bruyne
Sister: Stefanie De Bruyne
Son: Mason Milian De Bruyne
Father: Herwig De Bruyne
Kevin De Bruyne Controversies:
Kevin De Bruyne was in the news when he discussed the controversial statements made by Paul Pogba who is Manchester United's midfielder.
Kevin claimed that the controversial loan system of Chelsea was the reason that he left the club.
Kevin was caught in a controversy when he was seen arguing with teammate David Silva at half-time of Manchester City's Champions League win over Napoli.
Kevin De Bruyne Net Worth: $30 million
Social Media Handles:
Twitter: https://twitter.com/DeBruyneKev/
Instagram: https://www.instagram.com/kevindebruyne/