Isha Sharma is an extremely beautiful and talented actress. She works mostly as a model. Most of her work is for the Punjabi industry. Isha hails from Himachal Pradesh.
Isha Sharma Birthplace, Birthday, Family, and Background.
Isha is from Himachal Pradesh. She was born in Himachal Pradesh in the year 1994. To be more specific, she was born in Dharamshala, Himachal Pradesh.
Not much is known about her family but it is sure that she has a sister. She has posted a picture of her parents on Instagram but has not mentioned their names.
Isha Sharma Education and More.
Isha Sharma hails from Himachal Pradesh and did her schooling from there itself. Then she completed her graduation from Chandigarh. Her university was Chandigarh University in SAS Nagar, Chandigarh, Punjab. Her highest qualification is a management degree in Human Resources. Thus, Isha is highly educated.
Isha Sharma Career and Entry into the Industry.
As per Celebanything, Isha Sharma began her career by participating in competitions. She participated in Winter Queen Show 2017 where she amazed everyone with her extremely beautiful looks and charismatic personality. She was the third runner-up in the said competition.
After the competition, she went on to model for quite a few commercial ad films and Punjabi music videos like "Speed Full", "Pehla Valentine" and many more. Her streak of music videos is continuing to date. In 2020, she has modeled in several Punjabi songs including "Nakhre Jatti De".
Isha has worked with several very successful and famous singers like Tyson Sindhu, Sidhu Moose Wala, and others. Thus, she has a really successful career as a model.
Isha Sharma Hobbies, Interests, and More.
Isha Sharma works predominantly in the Punjabi industry but her favorite actors are from Bollywood. Her favorite actor is Shahrukh Khan while her favorite actress is Priyanka Chopra. Her favored singer is Guru Randhawa who has become very popular in recent years.
Isha loves to read books.
Isha Sharma Physical Stats and Appearance.
Isha Sharma is fairly tall. She is about 172 cm in height which is around 5'8″.  She weighs around 55 kgs or 121 lbs. She has beautiful brown eyes and her hair is black in color.
She has a very charismatic personality and is very beautiful.
Isha Sharma Songs and Appearances in Music Videos.
Isha Sharma has appeared in a lot of Punjabi songs in 2019. She has worked on about 11 songs in 2019 only. Some of these songs are "Disappear" by Zorawar, "Speed Full" by Jatinder Dhiman, "Pehla Valentine" by Himmat Sandhu, "Sadness" by Bobby Sandhu, "Gal Wakh Hon Wali" by Kamal Khan, "Long Life" by Harpreet Dhillon, "Love Letter" by DJ Gucci, "I Know" by Harnoor, " Kaash" by Nachhatar Gill, "Yaara Lai" by Tyson Sindhu.
In 2020 too she has an abundance of song appearances, such as "Nakhre Jatti De" by Harvi Harinder, "Window" by Deep Singh, "Yaari Teri Tod Deni" by Surjit Bhullar, "Wedding" by Rahul Bajaj. Her latest song is "Gupp Marda" by Kulwinder Billa.
Isha Sharma Social Media and Followers.
Isha has a strong social media presence. She is present on almost all popular social media platforms. She has 2000 followers on Facebook; around 100,000 followers on Instagram which shows her popularity among the masses.
Overall, Isha is a really popular and talented model. She is very beautiful and popular. Also, her career as a model is on rising.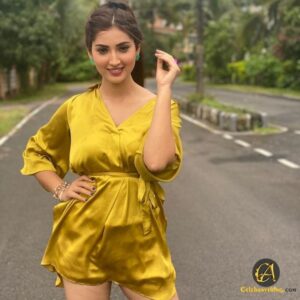 Social media handles:
Facebook: https://www.facebook.com/iamishasharma7/
Instagram: https://www.instagram.com/isha_sharma7/