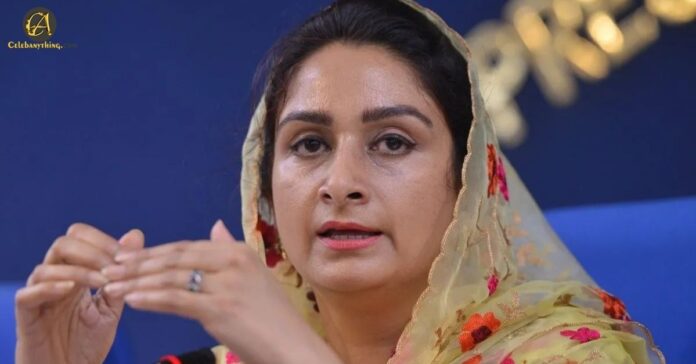 Harsimrat Kaur Badal is an Indian politician. She is a former Union Cabinet Minister in the Government of India. She belongs to the Shiromani Akali Dal party.
Harsimrat Kaur Badal Birthplace, Early Life, Parents, Family, and More.
Harsimrat was born in Delhi on 25th July 1966. Her father's name is Satyajit Mjithia and her mother's name is Sukhmanjus Majithia. Harsimrat's brother is Bikram Singh Majithia who is an Akali MLA from Majitha. He was also a minister in the state government of Punjab state when her father-in-law Parkash Singh Badal was leading the state government.
Harsimrat Kaur Badal Education and More.
Harsimrat was born and raised in New Delhi. She completed her basic education at Loreto Convent School in New Delhi. Later, she enrolled in a three-year course in textile designing. Thus, she is matriculated and has a diploma in the field of textile design.
Harsimrat Kaur Badal Husband.
In the year 1991, Harsimrat Kaur Badal got married to Sukhbir Singh Badal on 21st November. They have three children consisting of two daughters and a son.
Harsimrat Kaur Badal Political Career, Political Party, Ministry of Food Processing Industries, and More.
Harsimrat began her political career in the year 2009 with the Indian general elections held in the same year. She got elected from the Bathinda constituency to the 15th Lok Sabha. She defeated Raninder Singh of the Indian National Congress by around 120k votes. She delivered her first speech on 3rd December in the year 2009. She showed her concern about the victims and survivors of the 1984 Anti-Sikh riots in her speech. Harsimrat has been a part of several social service programs. She participated in a project named "Nanhi Chhan" which was directed towards saving girl children and trees.
Harsimrat Kaur was elected as the MP in 2014 from the Bathinda constituency. She contested and won against a joint candidate of the National Congress and People's Party of Punjab, Manpreet Singh Badal.
For her achievements as mentioned above, she was appointed as the State Minister for Food Processing Industries under the Modi government. Then, for the third time in a row, she got selected as an MP from the Bhatinda constituency in the 2019 Lok Sabha elections. She contested against Amrinder Singh Raja and won by a small margin of 21,000 votes.
Harsimrat Kaur Badal Resignation and More.
On 17th November in 2020, Harsimrat Kaur Badal resigned from the cabinet. She resigned in support of the huge protest against the latest farm bills passed by the current government. The protest is a huge movement as an enormous number of farmers have participated in the same and are not ready to leave the protest until the new laws are changed or taken back.
 Thus, currently, Harsimrat Kaur Badal has resigned from her position because of the above-stated reason. This is a description of Harsimrat Kaur Badal's life, family, husband, and political career.