Angelina Jolie or Angelina Jolie Voight is an American film actress, movie maker and is also a philanthropist. She is the winner of an academy award, two Screen Actors Guild awards and three Golden Globe awards. Angeline Jolie, is considered to be Hollywood's highest paid actress. She made her debut when she was a child in 1982 in the film Lookin' to get out. Her first major role was seen in the 1995 film Hackers.
Angelina Jolie Awards and Recognitions:
Angelina Jolie won a Golden Globe award in 1998 for best-supporting actress for the film George Wallace. She also won the Golden Globe award for best actress for the film Gia. She won Screen Actors Guild Award in 1999 for outstanding female actress award. She won Academy Award in 2000 for the film Girl, Interrupted for the best-supporting actress. She won Screen Actors Guild award for Outstanding Supporting female actor in 2000. Angelina also won the ASC Governers award in 2018 as a director for the film 'First They Killed My Father'. She has also received the Honorary Dame Commander, Order of St Michael and St George in 2014.
Angeline Jolie Marriage: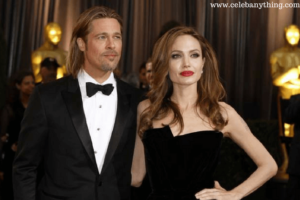 She has been married multiple times but the marriage or relationship didn't work in any of the cases. Finally, she found her true love in Brad Pitt and they were considered to be the Hollywood's most glamorous couple and had six children. They decided to move ahead with their twelve-year long relationship and married on August 23, 2014. Unfortunately, after two years of marriage, they parted ways where Jolie requested for custody of their children.
Angelina Jolie Age:
42 years. Born on 4 June 1975
Angelina Jolie Education Qualifications:
New York University
Angeline Jolie Family: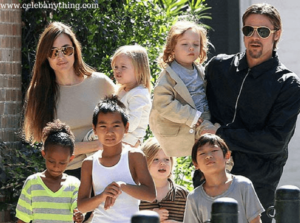 Father: Jon Voight
Mother: Marcheline Bertrand
Son: Knox Leon Jolie-Pitt
Daughter: Zahara Marley Jolie
Son: Pax Thein Jolie-Pitt
Daughter: Vivienne Marcheline Jolie-Pitt
Son: Maddox Chivan Jolie-Pitt
Daughter: Shiloh Nouvel Jolie-Pitt
Brother: James Haven
Former spouse: Brad Pitt
Angelina Jolie Controversies:
Many reporters and also the general public was against her way of casting for First They Killed My Father. They found it very inappropriate as far as children are concerned.
She filed a divorce against her husband Brad Pitt which was Abigail shock for everyone and also accused him of being physically abusive.
She openly admitted to getting her ovaries and fallopian tubes removed as her mother and grandmother died because of cancer. It was a risky decision but she took it and inspired many other women for the same.
Angelina Jolie Net Worth: $160 million
Social Media Handles:
Facebook: https://m.facebook.com/angelinajoliegoddess/
Twitter: https://twitter.com/joliestweet/
Instagram: https://www.instagram.com/angelinajolieofficial/